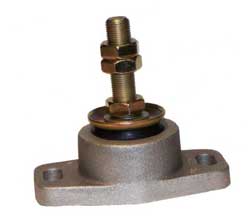 Pictures are for concept only. Actual product may vary from image. Always verify against descriptions and manufacturer information on this part. If you have questions please contact us.
.
Category:Engine Parts & Accessories > Other Engine Parts & Accessories > Engine Block Components & Parts > Mounts, Engine Bed
Manufacturer: Bushings Inc
Part Number: DF-2204-2
Description:
Dual Flex Engine Mounts, 4" Bolt Centers, 5/8" Stud, For Engines Up To 150#

Part #DF-2204-2 from Bushings Inc

The ("Dual Flex") DF-2204-2 Series features heavy duty aluminum alloy construction with lip incorporated in the top of the casting to resist the upward pull of the engine. Durable oil and fuel resistant elastomer element raised above top of the casting to accommodate engine mounting angles. Low profile mount-requires only 2-3/8" minimum clearance from casting base to top of leveling nut. Fail safe design - bottom pad prevents excessive impact. Easy installation with threaded stud for vertical height and slotted casting for horizontal adjustment. Stud furnished with three nuts. Leveling, locking and secondary lock. Aluminum base cast with 3/8' slotted holes for 3/8" bolts or lag screws. All steel parts are zinc dichromate plated for corrosion resistance. Available with 5/8" stud or 1/2" stud, and three size ratings dependant on engine/powertrain package weight.

Sggested 4-Point Mountings
| | | |
| --- | --- | --- |
| Engine Weights | 5/8" Stud | 1/2" Stud |
|   |   |   |
| Up to 150 lbs. | DF-2204-2 | DF-2204-1 |
| 150 to 450 lbs. | DF-2205-2 | DF-2205-1 |
| 450 to 750 lbs. | DF-2207-2 | DF-2207-1 |
The Bushings, Inc. "Dual Flex" Marine Engine Mount design provides outstanding vibration isolation control across the three (longitudinal, lateral, and vertical) fields of vibratory motion. Construction of the mount gives a soft cushioning effect under normal loads, as mount loads increase across the operating range, shear resistance grows quickly providing smooth operation with a small amount of deflection.
If you have questions about which engine mount is correct for your application, see our mount selection chart
Our price: $61.04 - each
&nbsp&nbsp&nbsp

src code: -
alt code:
cat: 5159