<< Return Previous Page
Atomic 4 Specification and Feature Information
Note:
This information is for historical reference only. The Atomic 4 engine is out of production and this information comes directly from Atomic-4 promotional literature. Most parts for the repair and upkeep of the Atomic 4 are still available. Please use the following links for information about currently available parts.
| Atomic 4 Common Parts Listing | Atomic 4 Online Parts Catalog with Diagrams |
| Used & Rebuilt Atomic 4 and Other Engines |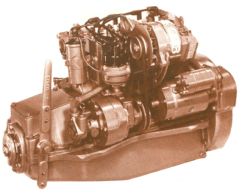 The Universal Atomic-4 a 100% marine engine, designed and engineered exclusively for powering the world's finest sailboats. Gasoline engines with stamina, service and reliability equal to diesel power.
Why select the Atomic-4?
Complies with all current U.S.C.G. regulations
Safely power over 40,000 sailboats
Universal assurance of excellence
Lower cost and fuel consumption
Long life and service when and where ever needed
U.S. build and comprehensive dynamometer tested
Smoothness you only enjoy from the wind, no noise, no smell, no problems. The ultimate in "Power for sail", Universal Atomic...there is no other.
Features
Standard Equipment: Propeller coupling, hand sump pump, U.S.C.G. approved flam arrestor, lifiting ring, water pump, electric fuel pump, oil level gauge, crankcase breather, built-in reversing gear, automatic temperature control, instruction manual, threaded exhaust flange, and shifting lever.
Cylinder Block: Cast en-block with crankcase of marine chrome nickel alloy iron. Full lenght water jackets.
Cylinder Head: Marine chrome nickel alloy iron. head is detachable. Combustion chamber designed to obtain maximum power and economy from regular grade gasoline.
Crankshaft: High carbon steel. Fully counterweighted, statically and dynamically balanced for smooth operating. Has insert bearings.
Connecting Rods: Drop forged, high carbon steel, insert bearings, and floating type piston pin.
Oil Pan: One piece true marine type extending the full length of engine provides exteme rigidity.
Manifold: Water jacketed exhaust and intake manifold incorporated into one casting. Exhaust flange tapped 1-1/4" I.P.S.
Lubrication: Full pressure to main, connecting rod, idler gear stud, and camshaft bearings. Outside oil pressure adjustment. Large area oil suction screen.
Hand Sump Pump: Separate, for easy removal of crankcase oil.
Water Jacket Cover: Removable clean out and water distributing plate on the side of cylinder block.
Cooling: Rubber impeller water circulating pump standard. Water pump inlet 3/8" I.P.S.
Reversing Gear: Oversize ball bearing type, pressure lubricated. Large radial end thrust ball bearing for propeller thrust. Reverse gear band with molded asbestos lining, provides longer life.
Reduction Gear: Single step, internal helical and pinion type. Available in 2 to 1 ratio.
Carburetor: Updraft Zenith marine safety non-drip type with upturned air horn, fitted with Zenith U.S.C.G approved type flame arrestor and vacuum crankcase ventilator.
Electrical System: 12 volt system standard. 37 amp alternator, marine type. Transistorized voltage regulator. Starter equipped with solenoid for remote starting. Distributor has full automatic advance.
Propeller Rotation: Right hand propeller
Automatic Temperature Control: Automatic bypass type to assure efficient operating temperature.
Optional
Instrument panel, power take-off pulley on flywheel, on-board spare parts kit, hand starting crank, 55 ampere alternator, adjustable rubber mounts.
Specifications
Engine Type: 4 cycle L Head
Number of Cylinders: 4
Displacement: 65 cu. in.
Bore: 2-9/16"
Stroke: 3-1/8"
Fuel: Leaded Regular Grade
Fuel Pump: Electric
Electric Starter: 12 Volt
Electric Alternator: 12 Volt, 37 Amp
Weight (lbs):

Direct: 310
Reduction: 330
V-Drive: 335

Propeller Couplings:

Direct: 3/4" - 7/8" - 1"
Reduction: 1" - 1-1/8"
V-Drive: 7/8" - 1"

Propeller Data:

Direct Drive

Light Boats: 10 x 7-3 Blade
Heavy Boats: 10 x 6-3 Blade
Auxiliaries: 12 x 6-2 Blade

Reduction Drive 2:1

Light Boats: 14 x 7-3 Blade
Heavy Boats: 15 x 6-3 Blade
Auxiliaries: 15 x 8-2 Blade
Propellers listed are suggested for average boats and not necessarily recommended for all hulls
| Atomic 4 Common Parts Listing | Atomic 4 Online Parts Catalog with Diagrams |
| Used & Rebuilt Atomic 4 and Other Engines |