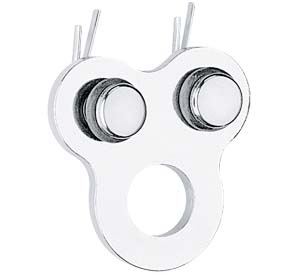 Pictures are for concept only. Actual product may vary from image. Always verify against descriptions and manufacturer information on this part. If you have questions please contact us.
.
Category:Rigging & Lines > Triangle and Back Stay Plates
Manufacturer: Harken
Part Number: 322





Description:
Harken 2.00 Split Backstay Plate

Part #322 from Harken
Description Split backstay plate for 308
Weight (oz) 1 1/4
See this product as shown on the Line/Wire High Strength Blocks page (72) of the Harken catalog. PDF Version
This requires Acrobat reader. You can then print the catalog page and use your browser back button to return here and continue shopping.
Our price: $37.80 - each
&nbsp&nbsp&nbsp

You may also be interested in these related products:
src code: Harken
alt code:
cat: 5132