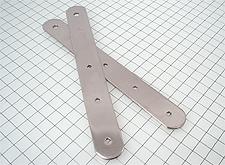 Pictures are for concept only. Actual product may vary from image. Always verify against descriptions and manufacturer information on this part. If you have questions please contact us.
.
Category:Cockpit > Steering Systems & Engine Controls > Rudders > Rudder Hardware > J24 Style Pintles & Gudgeons
Manufacturer: Schaefer
Part Number: 85-44
Description:
Schaefer Tiller Straps, J/24 Type, 3/8"(10mm) Pin

Part #85-44 from Schaefer
Commonly recognized as "J/24 type".
For boats to 25'.
12" long by 1-1/2" wide by 3/16" thick.
Our price: $231.60 - each
&nbsp&nbsp&nbsp

You may also be interested in these related products:
src code: OYB
alt code:
cat: 5114