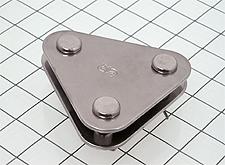 Pictures are for concept only. Actual product may vary from image. Always verify against descriptions and manufacturer information on this part. If you have questions please contact us.
.
Category:Rigging & Lines > Triangle and Back Stay Plates
Manufacturer: Schaefer
Part Number: 84-46
Description:
Triangle Plate, 3/8" (10mm) Pin

Part #84-46 from Schaefer
For use with 3/16" 1X19 wire marine eyes.
Includes two plates and three 3/8" clevis pins with cotter pins.
Inspect all standing rigging for cracks, wear, elongation and corrosion on a regular basis. Replace suspect fittings immediately.
Our price: $96.05 - each
&nbsp&nbsp&nbsp

You may also be interested in these related products:
src code: OYB
alt code:
cat: 5132