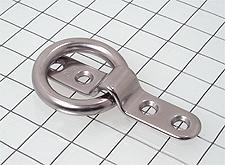 Pictures are for concept only. Actual product may vary from image. Always verify against descriptions and manufacturer information on this part. If you have questions please contact us.
.
Category:Deck & Hull > Deck Hardware > Lifting Rings
Manufacturer: Schaefer
Part Number: 78-22
Description:
Schaefer Lifting Ring, 3 5/8"L x5 /8"W (92x16mm)

Part #78-22 from Schaefer
5000 lb Safe working load.
Always use fender washers or a backing plates when installing Pad Eyes. Some boats with extremely light deck construction may require additional reinforcement around fasteners.
Our price: $102.60 - each
&nbsp&nbsp&nbsp

You may also be interested in these related products:
src code: OYB
alt code:
cat: 5124