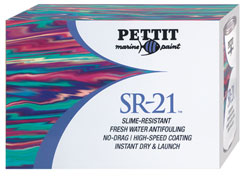 Pictures are for concept only. Actual product may vary from image. Always verify against descriptions and manufacturer information on this part. If you have questions please contact us.
.
Category:Repair & Maintainence > Paints and Supplies > Anti-Fouling > Other Anti-Fouling by Pettit
Manufacturer: Pettit Paints
Part Number: 1221Q
Description:
SR21 Anti-Fouling Bottom Paint, Blue, Quart

Part #1221Q from Pettit Paints

SR-21 is an ultra-thin, super slick, low friction film for boat bottoms. It is an ideal racing finish for fresh water or cold saltwater boats. Its dual biocides combine the power of copper and Irgarol to produce an effective, thin film antifouling. It contains the slicking agents PTFE and Molybdenum Disulfide to reduce surface friction, allowing the hull to slide through the water. SR-21 is easy to apply and dries in 15 minutes. Color changes upon immersion.

Use 120 thinner

Super-slick racing finish for fresh water or cold saltwater boats
Dual-biocides control hard and soft fouling
Ultra-thin film thickness prevents paint build-up with no sanding required
Contains moly-disulfide & PTFE for reducing friction

UPC: 725469020993

Retail: $90.49
Our price: $64.95 - each

&nbsp&nbsp&nbsp


Special shipping notice for this product:
Because of this product's hazardous shipping designation, this product and other products ordered with this product are only available in the United States and must be shipped by surface carrier.
If this product is ordered with other products that you would like shipped by standard shipping methods, you may contact support to arrange for special split shipments.
You may also be interested in these related products:
src code: LNS
alt code:
cat: 10224