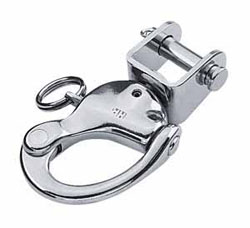 Pictures are for concept only. Actual product may vary from image. Always verify against descriptions and manufacturer information on this part. If you have questions please contact us.
.
Category:Sailing Hardware > Shackles > Snap & Quick Release Shackles
Manufacturer: Harken
Part Number: 884





Description:
Small Snap Shackle

Part #884 from Harken
Weight: 5 oz.
SWL: 2,300 lbs
Use with furling unit: 2, 2.5
UPC: 097653013365
See this product as shown on the Unit 00AL Jib Reefing & Furling page (153) of the Harken catalog. PDF Version
This requires Acrobat reader. You can then print the catalog page and use your browser back button to return here and continue shopping.
Our price: $110.95 - each
&nbsp&nbsp&nbsp

You may also be interested in these related products:
src code: OYB
alt code:
cat: 5111