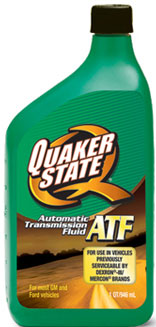 Pictures are for concept only. Actual product may vary from image. Always verify against descriptions and manufacturer information on this part. If you have questions please contact us.
.
Category:Engine Parts & Accessories > Other Engine Parts & Accessories > Assorted Engine Parts > Engine Lubrication & Additives > Oil Change > Engine Oils
Manufacturer: Quaker State
Part Number: 406348
Description:
Dexron III / Mercon Transmission Fluid - Quart ( ATF )

Part #406348 from Quaker State

Traditional Quaker State® automatic transmission fluids are manufactured with highly refined base oils and performance additives. Designed to keep vehicles shifting smoothly and running cool under various operating temperatures. DEXRON®-III, MERCON® ATF- Recommended for all automatic transmissions requiring DEXRON®-III, DEXRON®-II, DEXRON®-IIE, or MERCON® transmission fluids. Exceeds Allison C4 specifications.

Special Note About This Part:
This part number is no longer available.
You may also be interested in these related products:
Easy Hand Cleanup After Any Engine Repair or Maintenance Work
- Fast Orange Pre-Moistened Wipes - Touch Grease and Grime Removal - Waterless - No Rinsing Required - Click here for more details
src code: Major Brands Oil Com
alt code:
cat: 10205