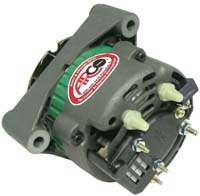 Pictures are for concept only. Actual product may vary from image. Always verify against descriptions and manufacturer information on this part. If you have questions please contact us.
.
Category:Engine Parts & Accessories > Other Engine Parts & Accessories > Engine Electrical Systems > Alternators > Arco Alternators
Manufacturer: Arco
Part Number: 60072
Description:
ARCO INBOARD ALTERNATOR

Part #60072 from Arco
MANDO
FITS: LATE MODEL VOLVO PENTA
12 Volt, 65 Amp
Multi-groove serpentine pulley included
This is a special order part. Product should ship in about 14 days. If you have questions or need more specifics, contact support.

Special Note About This Part:
This part number is no longer available.
src code: LNS
alt code:
cat: 10233