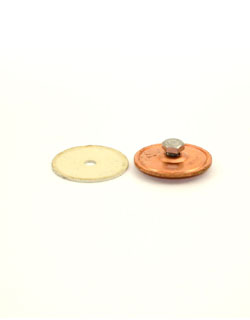 Pictures are for concept only. Actual product may vary from image. Always verify against descriptions and manufacturer information on this part. If you have questions please contact us.
.
Category:
Manufacturer: Universal
Part Number: 299838
Description:
Heat Exchanger Cap And Gasket 2-1/8

Part #299838 from Universal

For the following Universal engines:
M12, M2-12, M-18, M-20, 5416, M-25, 5421, M-30, 5424, M-40, 5432.



It is also used on certain M25-XP and M-50 and 5444 Universal engines.
For these three models of engines you will need to determine the size of your heat exchanger. This part number will work if you have a 2" heat exchanger.
If your engine has a 3" heat exchanger you will need to order and use part number 301457.

Our price: $38.70 - each

&nbsp&nbsp&nbsp


Important Notice About Westerbeke and Universal Engine Hoses:
When ordering hoses for your Universal or Westerbeke engine it is important to note that the manufacturer has changed the specification on many of its hoses. Some hoses that were formerly sold as formed and fitted hoses are now sold as cut to length hoses. For more information, you may email support.
.
Westerbeke / Universal Diesel Engine Parts Territory Info:
We sell sailing products to more than 75 countries around the globe and look forward to serving you. We are authorized to sell Westerbeke / Universal Engine Parts in the following areas:
Arkansas
Illinois
Indiana
Iowa
Kansas
Kentucky
Michigan
Minnesota
Missouri
Western New York east of Highway 81
Nebraska
North Dakota
Ohio
Oklahoma
Western Pennsylvania east of Highway 81
South Dakota
Tennessee
Wisconsin
View where this part is used
New & Superceded part numbers may not be directly associated to a specific parts book or engine in the results. Please contact us if you need help confirming the part is what you require.
You may also be interested in these related products:
src code: Universal
alt code:
cat: Universal Parts

If you have questions, email customerservice@torresenonline.com.

Your privacy and security is important to us. See our privacy policy